I am delighted to provide a testimonial to Sam and his great cleaning services. Over the last couple of years our family has enjoyed having Sam clean up around our garden and cleaning our windows inside and out.
Now that Sam's business has extending further to include car cleaning, I have also enjoyed him taking care of my car cleaning doing a fabulous job and done with his usual good humour and great customer focus!
I recommend Sam highly and wish him well in his future endeavours
Margaret Michael
Macedon
Hi Sam
Very good to meet you and pleased to know you.
The detailing you did on my car was second to none and I would recommend your business and performance as excellent.
You arrived on time as agreed and cleaned and polished my very messy and dirty car inside and out, it looks feels and smells like a new car once again, my business colleagues have asked me if I have bought another car as the difference is that big after your service.
I would thoroughly recommend you and your business to anyone wanting excellent service and professional results at a very reasonable price.
I am very impressed with Able Sam Cleaning and will be using your business again for sure.
Mark
Woodend
I had a 1 year old Red Subaru Forrester. As I use the car quite heavily and go off road at times, the exterior of the car is really dirty and its constantly filled with dust and mud. To top it off, I had some tar on the rear part of the vehicle which I have no clue how it got on the vehicle. Just last Sunday, I asked AbleSam to helped in cleaning up the car. Not only did he cleaned the exterior of the car, the interior of the car was also cleaned. I noticed that he used some special chemicals that seemed to make some parts of the car regain its shine. Even some part of my paint work that had some fine scratches were removed. And I love the way how the trims, tires and glass windows regained its shine. In fact one of my friend even commented that it looked like brand new again.
Booking the appointment with him was also a breeze and I definitely do recommend AbleSam to my friends.
Alvin
Gisborne
Thank you Able Sam Cleaning for detailing my Astra.
I was very pleased with the results, the car simply glistens.
Sam is very polite and will clean your car at your house or place of work within in desired timeframe.
A very professional service that I would not hesitate to recommend.
Cathy, Sunbury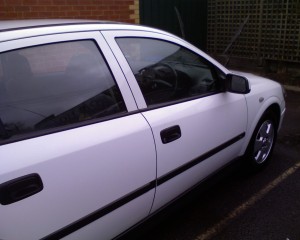 " I had Sam come to my house to clean my very dirty 4WD and small car. The day was very wet and miserable but he did a fantastic job. The cars were immaculate both inside and out. His prices are very reasonable and it is very convenient having Sam come to you. I will use Sam again and would highly recommend his services."
Charlotte ,Riddell Creeks
" Sam thank you for my sparkling windows. Even with the rain, frost and wind they are still sparkling. You did a fantastic job and I am sure you will be run off your feet."

Linda, Gisborne
"Thanks for polishing the BMW. Both cars look amazing as always. Bec was so impressed she has asked for your number.

Think you won yourself another regular client !!"
Nicole, Newham
" Sam did our house windows, which were very dirty after renovations, and brought them back to sparkling. I was so pleased with the quality of his work, his friendly and responsive manner, and the fact he wants to come back to do them in a regular basis ! A wonderful early Christmas present. Thanks Sam "
Katherine, Hesket
" We recently had 3 very muddy work vehicles detailed and cleaned by Sam. He was very easy to work with, very willing to help and was able to get it all done, even though we had a pretty tight deadline. The cars look fantastic! Thanks so much Sam, you are a professional and we are very grateful for your service."
Jane, Gisborne
"Sam did another great detailing job for me. He was super responsive and professional and also great value. Lovely guy and I wouldn't hesitate using his services again! Thanks Sam ?"
Mike, Woodend
"Sam detailed my car for me yesterday and I was amazed with the results. I have never seen my car so clean before, he did a fantastic job. Very professional and the prices are great. I would use Sam again and would recommend to others."
Shannon